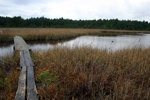 48% of Estonia is covered by woods. But not only woods - there are lots of wetlands, coast banks, sandy beaches, thousands of small islands. It's not usual in Europe. And for nature tourists, it is possible to discover it all.
Reisijutud NPA can provide information about Estonian responsible travel destinations and about companies we know. You can always ask more according Your specific interests - from info ät reisijutud.com.
First of all, let me introduce some general parts of Estonia. They are different, but at first, You can see some general features of South, East, West or North Estonia.
Estonian Capital, Tallinn is on the northern coast. It is the main destination. Many tourists visit only Tallinn and not getting outside. You can be more concentrated and only visit Tallinn old town as many cruise tourists do. But it is not showing the general part of Estonia - people´s life and local nature. For that You have to go outside the capital.
Nordic coast is good destination for start. East from Tallinn, there are good roads leading You to Jägala Waterfall, what is the greatest waterfall in Estonia, then maybe a small trip to Viru bog, good introduction to Estonian wetlands and then Lahemaa National park - more culture, more historic landscapes of Estonia. For example, You can visit fishermen village at Altja or Käsmu, manor houses Palmse, Sagadi and Vihula, Rakvere old castle and Kõrvemaa, popular hiking place with hills and lakes.
Eastern part of Estonia is more industrial. North-East is area of some mining towns, factories and historic old villages and cities. Popular destinations are old-orthodox villages on Peipsi coastline, Narva bordertown with castle, soviet-time city Sillamäe with Stalin-style Architecture, Coastal cities and villages Toolse, Toila and Kunda.
Southern part of Estonia includes the second largest city Tartu with one of the oldest university in Northern Europe, hilly landscape in Otepää (our winter capital with mountain (or hill) skiing centers, Põlva and Võru as southern dialect towns, some old castles and manors.
Western part of Estonia is more loved by birdwatchers and I can say - it is good place to go for kayaking at summer and ice-skating at winter time. Lots of small islands are very rare by their nature environment, bigger islands like Ruhnu, Kihnu, Vormsi, Muhu and others are interesting for culture and folklore travellers. Bigger islands - Saaremaa and Hiiumaa have ferry and plane connections with mainlands and can be discovered by several days.
We can provide some more information to study destination Estonia.
Hiking tracks - this is our collection of tested and tracked routes.
Transportation:
Accommodation:
Accommodation we have tested:
News:
Museums: