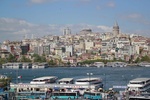 1. Follow the footsteps of James Bond
Agent 007 is exploring Istanbul in the latest James Bond movie, Skyfall. The first action scene takes place in Grand Bazaar. World's largest indoor bazaar Grand Bazaar was built in 1461 and there are more than 4 000 shops. Open every day 8.30–19.00. (Beyazıt-Eminönü.)
It's the third time that James Bond movie is partly filmed in Istanbul – the city of two continents: Asia and Europe. The name of the first Istanbul based movie was From Russia with love and the second one was The world is not enough.
"Istanbul is the number one travel destination for fans of 007. The past is always present in a modern city with an exciting night life", says Ahmet Kaplan, the counselor of Turkish Embassy Information Counselor's office.
Check the opening scene here: 
2. Get inspired by the shine of tulip colors
Istanbul bursts into bloom in April when more than 11 millions tulips open up their petals to celebrate the 8th International Tulip Festival. Since 2004 there have been more than 56 million tulips to remind that Turkey is the origin of this beautiful flower. The period under the reign of sultan Ahmed III in 1718–1730 is called the Tulip Era. The form of the Tulip was utilized in various occasions such as in paintings, food and art. The shape is still considered to be the embodiment of perfection and beauty.
The most magnificent experience you can find in the parks such as Gülhane next to Topkapi (more than 265 000 tulips and 15 different species). Emirgan park is the biggest one, more than 1,8 million tulips and 100 pieces are growing there.
"Tulips were first cultivated by Ottaman Turks. They introduced them to the Dutch in the 17th century. The Turkish teaglass is influend by the shape of the tulip", says Ahmet Kaplan, The Counselor of Turkish Embassy Information Counselor's office.
3. Get inspired by design and art experiences
Istanbul's art community is booming! Turkish artists who once moved to London, Berlin or Amsterdam have returned home. Istanbul has a lot to offer for an art lover: centuries old Mosaic art in the world famous places like Hagia Sofia and thousands of contemporary art galleries such as Galeri Nev in the famous Beyoglu Istiklal street and Galeri Egeran.
Karaköy district. Istanbul Modern museum located by the Bosphorus exhibits modern and contemporary art. The pieces of art can be anything from photos to huge installations.
"Perfect way to end art day is to sip Turkish tea at the terrace of Firuzaga Camii Kahvesi, which is very popular among local artist, writers and actors" (Siraselviler caddesi ,Cihangir), says Melek Mazici who is Helsinki based artist from Istanbul.
4. Get relaxed in Princes' islands
By taking a half an hour ferry ride to Princes' islands you can get a totally different kind of experience of Istanbul. During the Byzantine period princes and during Ottoman Empire's period sultans were exiled to these lovely islands. There are beautiful old wooden houses, authentic village atmosphere, fresh sea air and magnificent fish restaurants in the biggest island Büyükada. By visiting Princes' islands you also visit the Asian part of Istanbul.
"You can take a tour around Büyükada island by a romantic horse ride or renting a bike. You might even run into cows – you totally feel like being far away from Istanbul", says Ahmet Kaplan, The Counselor of Turkish Embassy Information Counselor's office.
5. Let yourself indulge to culinary experience
Turkish kitchen is well known for its colorful and aromatic dishes. The biggest influencer in this cuisine has been the Ottoman Empire, which made cooking some sort of art. Turkish cuisine is a fusion and refinement of Central Asian, Middle Eastern and Balkan traditions. Haci Abdullah was established in 1888 and it's one of the most traditional restaurants in Istanbul. It's the place to taste Ottoman Palace delicacies. (Atif Yilmaz Caddesi 9A, Beyoglu). 
Lacivert Istanbul is a restaurant located on the Asian side of Bosphorus and it has the most stunning view of the Istanbul Strait. Hop across for a coffee if you like, or stay for lunch or dinner (Körfez Cad. No: 57/A Anadolu Hisarı).
For more information, see www.tourismturkey.fi
Foto: (C) Eevakaisa Mölsä