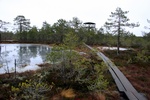 Viru bog trail is one of the m ost famous bog trails near Tallinn. It´s about 40 km on Peterburi maantee towards Narva. Then turn left to Loksa direction, few hundred meters and on trhe right side is a small parking place with map stand and DC.
Track starts from N 59.470907 E 25.637528.
Track is recorded in early winter time with high water, You can follow it exactly at any time.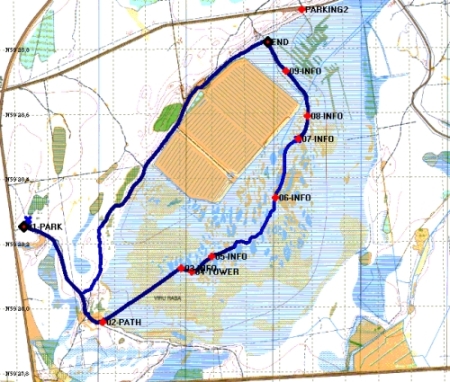 Waypoints on GPS-file recorded on this map:
TURNLEFT - FROM TALLINN, TURN LEFT TO LOKSA DIRECTION.
PARKING2 - 2ND PARKING PLACE, AT THE END OF TRACK
END - END OF VIRU BOGWALK. WALK BACK OR GO TO SECOND PARKING LOT.
06-INFO - INFO STAND.
05-INFO - INFO STAND.
04-TOWER - WATCHING TOWER. MAX 8 PERS.
03-INFO - INFO STAND. VIEW TO TOWER.
02-PATH - WOODEN PATH BEGINS HERE.
01-PARK - PARKING, STAND WITH A MAP, DC, STARTING POINT.
Viru bog trail on Google Maps: