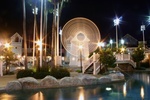 By: Janice McSherry
If you are planning to visit Orlando for a vacation, you have probably already made plans to visit Disney World, Universal Studios, Sea World and the other famous attractions. If you want to do something a little out of the ordinary you can also consider some eco tours in the rich nature of Central Florida.
A kayak tour along the rivers and lakes of Central Florida is the perfect way to get close to nature. Bird watchers who take the kayak tours will rewarded with views of beautiful birds including the Great Blue Heron and White Pelicans. Other animals that you may see include wild boar, deer, black bears, raccoons, bob cats and alligators. All of them are roaming in their natural habitats and not in a zoo so your experience of them will be different and unforgettable.
There are several areas in Central Florida where you can go on a kayaking tour. There are two national wildlife refuge areas that are perfect. One is Pelican Island, the U.S.'s first wildlife refuge which was set up in 1903 and the Merritt Island National Wildlife Refuge. Merritt Island is said to be the home of the largest number of endangered species in all of the U.S. wilderness refuges.
Another popular kayak route is the Loxahatchee River Canoe Trail. This is a federally designated natural and scenic river and you can paddle to your heart's content in beautiful pristine wilderness.
If you are a history buff then you might enjoy a canoe or kayak trip along the Indian River and Mosquito Lagoon area. This is an historical area which was home to seven Native American cultures dating back to 7000 BC as well as the home of Spanish explorers and civil war troops.
Another great kayak location is the Cape Canaveral National Seashore. Many people say that this is the most beautiful beach in the continental USA.
According to your interest you can also opt for some "specialized" kayak tour, exploring a particular ecological niche or meeting a particular species. For example, if you would like to get to know Florida's most endangered species, the Manatee, then you will find a great two hour tour starting at the Merritt Island National Wildlife Refuge near Titusville, Florida. If you visit during the months of April October then you are guaranteed to see the Manatee. The current price for a single kayak is $30 and $45 for a double kayak.
Bird lovers will probably want to go on a specialized Birding (bird watching) tour and the Merritt Island National Wildlife Refuge is the place to do it. The months of June and July are perfect because you will be able to see fledgling birds on the shore of an island near the starting point of the tour. You can enjoy this tour for about $25.
Shuttle launches are spectacular no matter where you are located, however one of the best views of the Shuttle launches can be seen by taking a kayak and paddling out to a spot only seven miles from the launch pad. Not only will you have a clear look at the Shuttle but you will also be able to spot manatees and dolphins while you are paddling to your viewing location.
This is just a small example of the ecological tours that you can enjoy while visiting Orlando. So, think about nature and set aside some time to enjoy the natural beauty of Central Florida.
Author Resource:->  Janice McSherry is an Orlando vacations specialist. She is the proprietor of Homes Near Disney (http://www.homesneardisney.us) and Florida Vacation Villas (http://www.floridavactionvillas.com). Visit her websites for deals on Vacation Rental Homes in Orlando.
Article From Free Travel Articles