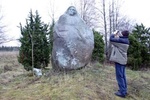 Iru trail is inside the city borders, but You can find pure nature and even animal activity here. This is unofficial track, so remember: no signs and no trails may be on the way. Beware of local land owners - track leads You to shore trail, what is officially free to pass for everyone, but some land owners are very angry about strangers. This didn´t happened to Us on our way, but You never know... all the track is publicly accessible by the law, some parts may change during the construction works near Iru Power Station, so follow the fences and signs.
This track is leading to ancient settlements near Pirita River, where the first castle of Tallinn Area was built by ancient Estonians - Iru Castle. You can find war defence railroad bridge ruins on the way (from times of Russian Peter I), new buildings of private owners, castle hill, cave, stream etc.
On our track, You can start from Pirita by bus, first bus stop after the bridge. Follow the Lane 34A to Laiaküla Station (Waypoint 071216-134826 on the track) and then walk forward. Go back to Pirita by foot or join the bus on Pärnamäe street if You want at any time.
Track starts from N 59.467018 E 24.83383.
Track is recorded by bus to Laiaküla Station, then by foot, You can follow it exactly at any time except at very high water level at Pirita river, but then just go as far as You can near the waterfront.
Pics from this track, December 2007
Google Map - track and waypoints.
Waypoints:
01-BUS34 - Bus Station, Bus 34a.
02-Iru - Iru Ämm, Historic Stone.
03Bridge - Old Bridge Ruins.
04-hill - Iru Castle Hill.
05-stone - Huge stone in the Pirita River.
06-stream - stream coming out from cave.
06bridge - suspension bridge to Botanical Garden.
08-entr - Entrance to Botanical Garden.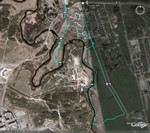 Iru-161207.gpx - right click to save ("Save Target As...").