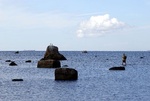 Kaberneeme Peninsula is typical fishermen villages coast in North Estonia. Hotel, restaurant and harbour are available at the starting point. You can leave Your car there.
First part of journey is on sandy coast. Avoid private properties near coastline. Then turn back to pineapple woods.
Pictures about this track, 29.07.06
Google Map - track and waypoint.
Waypoint:
AUTO (N59,520467 E025,276300) Car Parking, Hotel, restaurant and Harbour.
 
View Larger Map
kaberneeme-290706.gpx - right click to save target.
kaberneeme-290706.kml - Google Earth File.